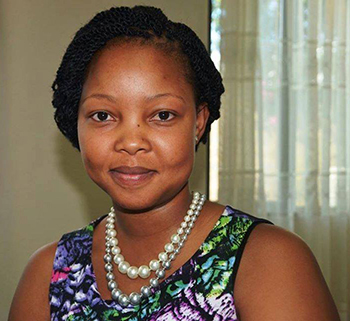 Here's another profile of a member of the faculty team of the Women's Health, Masculinities and Empowerment course that is being taught by Sonke Gender Justice, the UCGHI Center of Expertise on Women's Health and Empowerment and MenEngage Africa at the Kenyatta University, in Nairobi, Kenya.
Itumeleng Komanyane is one of four core instructors in the course. Komanyane is currently the manager of Sonke's International Programmes and Networks (IPN) unit, after having joined the organisation at the beginning of 2012 as the International GBV Project Coordinator.
In this position, she provided management and technical input for a gender-based violence (GBV) project funded by the United Nations (UN) Trust Fund to End Violence Against Women. The project advocates for GBV laws and policies in Kenya, Rwanda and Sierra Leone, and within African regional governance mechanisms, and works to include language on engaging men and boys in GBV prevention, and improve implementation of existing GBV laws and policies.
Last year, Komanyane was elected as Vice Chair of UN Women's Eastern and Southern Africa Regional (ESARO) Civil Society Advisory Group.
To this role, she has brought more than a decade of experience working on gender equality, sexual and reproductive health and rights (SRHR), youth development, and gender-based violence issues. She also offers a broad background in the work of engaging men and boys in gender equality promotion.
In 2001, Komanyane was awarded the Personal Development and Youth Leadership award by the Botswana National Youth Service, and in 2009, she received the Thari ya Sechaba award which honours women who have served as outstanding citizens and role models in Botswana.
As Sonke's IPN Manager, Komanyane leads Sonke's efforts to develop and support national, regional and international networks of civil society organisations' capacity to advocate for, and take gender transformative work with men and boys to scale.
She works very closely with the MenEngage Alliance, a global alliance of more than 400 NGOs, of which Sonke is the steering committee co-chair and also plays an important role in the MenEngage Africa Network, consisting of 12 networks across Africa, of which Sonke is the regional coordinator.