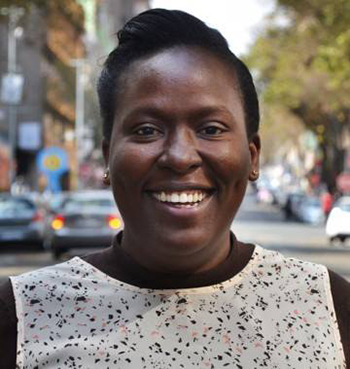 ANOTHER PROFILE FROM #WMATI2015‬
Mabel Sengendo is one of five core content instructors in the Women's Health, Masculinities and Empowerment: Advocacy and Training course that is currently in its second and final week in Nairobi, Kenya.
But who is Mabel Sengendo? Here, we bring you some brief background:
Mabel Sengendo joined Sonke in September 2013 as the International Gender Based Violence project coordinator managing the UN Trust Fund project being implemented in Kenya, Rwanda and Sierra Leone.
Sengendo holds a Bachelor's degree in Social Sciences with a double major in Psychology and Social Administration from Makerere University, Kampala.
She has also pursued a Diploma in Performing Arts with a major in Drama, from the same university.
Sengendo has over 10 years experience in project management from both the private and public sectors across Africa, ranging from brand management, managing marketing campaigns to social marketing/behaviour change campaigns.
Before joining Sonke, she worked with Lafarge East Africa, VSO International and Refugee Aid Organisation in Pretoria.
In 2010, she took a one year volunteer assignment with VSO International in Sierra Leone, where she worked with vulnerable youth and women in the post conflict northern Sierra Leone district of Makeni. In 2012 she worked with the Refugee Aid Organisation (RAO) in Pretoria, where she was the Youth Livelihoods project coordinator where she counselled, mentored and trained vulnerable migrant youth from across the continent, many of whom had experienced both physical and sexual violence.
Sengendo recently relocated to Uganda where she coordinates and supports work with the MenEngage Africa partners in the region through capacity building, supporting projects and network activities.
She loves acting and has featured in a couple of TV commercials in Uganda. She is also a certified peer educator and offers free counselling services.