This year, Sonke (represented by Dean Peacock and Bafana Khumalo) again participated in the United Nations 54th session of the Commission on the Status of Women (CSW) held from 1-12 March 2010, in New York. From the launch of our report on SA's progress, to our participation in high level panel discussions and presentations, Sonke ensured that work with men and boys remained on the agenda.
The 2010 CSW focused on reviewing progress 15 years after the signing of the Beijing Declaration and Platform for Action. Emphasis was placed on the sharing of experiences and good practices, with a view to overcoming remaining obstacles and new challenges, including those related to the Millennium Development Goals. Member States, representatives of non-governmental organisations and of UN entities participated in the session. A series of parallel events provided additional opportunities for information exchange and networking.
Report on SA Government Progress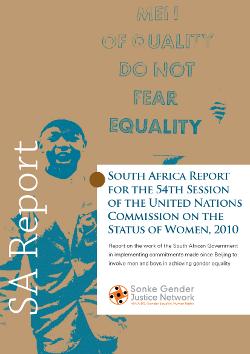 Sonke conducted an in-depth review of the South African government's progress towards meeting its international commitments regarding gender equality, especially with regards to involving men and boys. The report was launched at the CSW at a panel co-hosted by the Swedish and Norwegian Governments at which the Deputy Minister of Social Development, Bathabile Dlamini provided concluding remarks.
The review shows that the South African government has signed many global and regional commitments to involving men and boys in achieving gender equality. At the level of policy, the report demonstrates that government departments have developed groundbreaking policies and plans but there is all too often a large gap between policy development and implementation. At the level of programme development, the review concludes that government has indeed implemented some promising initiatives and, in some cases, begun to develop strategies to expand on these.
Most government programmes working with boys and men are small scale and limited. Many departments do not do this work at all; others engage in ad hoc efforts, and work is often not coordinated between relevant departments.
In order for the South African government to meet its international and national commitments, the report clearly indicates the need for government to prioritise effective policy implementation, monitoring and evaluation; support for civil society initiatives; scaling up programmes to reach large portions of the population and, further regional and international work, including government efforts to shape SADC and AU policy development.
Sonke Participation
Sonke co-hosted two sessions with MenEngage, the Norwegian Ministry of Foreign Affairs UNAIDS, the Athena Network, the Centre for Health and Social Justice and ICRW during the two weeks. The first focused on principles of partnership and accountability between organisations working with women and with men for gender equality. The second launched the ICRW and MenEngage Men and Gender Equality Policy Report.
Additionally, Bafana Khumalo spoke on a panel organised by The Global Coalition on Women and AIDS (GCWA) which hosted a roundtable discussion related to the need to dramatically improve national responses to AIDS for women and girls at national and community levels. The theme specifically was "Meeting Accountabilities to Women and Girls in the context of AIDS: What will it take to reach commitments to Beijing, Universal Access, UNGASS and the MDGs?" In looking beyond the UNGASS Declaration to AIDS to the Millennium Development Goals and the Beijing Declaration, the panel explored on how to build greater commitment to addressing structural issues and drivers as well as better services and programming by linking MDGs 3, 4, 5 and 6.
Dean Peacock, meanwhile participated in a high profile panel entitled Unite to End Violence against Women where he shared the podium with UN Secretary General, Ban Ki Moon, the newly appointed UN Special Representative on Sexual Violence in Conflict, Margot Wallström, Argentinean Human Rights Lawyer, Susanna Chiarotti, and Walter A. Füllemann, ICRC. The session can be viewed online and the paper which Dean presented is available on our website.
Conclusion
The Commission on the Status of Women concluded its fifty-fourth session with the adoption of six resolutions on a range of issues concerning gender equality and women's empowerment and the approval of one text, by recorded vote, on Palestinian women, to be sent to the Economic and Social Council for adoption. The Commission also adopted the draft report of its current session, as well as the provisional agenda of its fifty-fifth session.