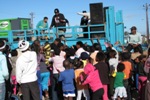 With the first-ever FIFA World Cup in Africa, 2010 has been a momentous year for our continent. It also proved a notable year for Sonke Gender Justice, as it launched several new awareness campaigns launched to raise awareness about the potential social dangers, like child exploitation, that global events like a World Cup can bring with it.
Leading up to and through the Cup and in the months since, Sonke has used a wide variety of media to reach out get its message out to the public. With funding from several donors, Sonke employed billboards, print media, television interviews, pamphlets, building wraps, radio programmes and the social networking engine, Facebook, to create greater awareness and call people to action.
Spearheaded by Johns Hopkins Health and Education South Africa (JHHESA) with Sonke as a key partner, the Brothers For Life campaign was the largest and most visible gender campaign of the year. During the World Cup, some of the highest-profile sporting stars from cricket, rugby and soccer-football (including Argentinean great Lionel Messi) put their names and faces to the campaign.From TV spots to billboards, from building wraps to local taxis and buses bearing ads, Brothers for Life seemed everywhere across South Africa. In Orlando and Soweto, street poles bore the posters; in Cape Town's city centre, whole buildings cried out for men to be responsible."People have given us a positive response to the campaign, especially since the campaign involves television and sports personalities, as well as personalities like Teko Modise, who are icons to most people," said Sonke's campaign coordinator Stubbs Maluleke for the project. "It makes the work done by Sonke reach a lot of people." The campaign has also received print media coverage in South Africa from EC [Eastern Cape] Today and Big Issue among many others. Brothers For Life can also be found on the social network, Facebook, where the group page continues to receive new "friends" daily.
In addition to Brothers for Life, Sonke's has gotten increased new exposure of its One Man Can (OMC) in media outlets. massMost recently, OMC gained a spot on the much-loved family TV soap Generations when Dumisane Shabane sought Sonke's assistance in overcoming his abusive behaviour.
Sonke's appearance on the popular soap brought numerous phone calls to the Sonke offices, including approaches by radio stations and other media companies for content and even long-term partnerships.
Sonke has also been featured in a number of television interviews recently in the region. Sonke National Campaigns Manager Regis Mtutu was interviewed at length on the Zimbabwe Broadcasting Corporation (ZBC). Mtutu spoke of how organisations, like Zimbabwe's Padare-Enkundleni (The Men's Forum on Gender), from across Africa have steadily increased men's participation in efforts to reduce gender-based violence and sexual abuse.
During the World Cup, Sonke launched the Red Card Campaign to reduce vulnerability of young girls and boys to sexual exploitation. Thousands of Red Cards have been distributed and millions of South Africans have been exposed to campaign messages through the public services announcements that have been (and continue to be) aired on national and community radio.
Sonke also has weekly slots with several radio stations and formal partnership with a dozen community radio stations across South Africa. On Monday evenings on Kaya FM, Sonke Media and Government Liaison Coordinator Mbuyiselo Botha engages 'on air' with the public about issues related gender-based violence. Sonke staff also appear weekly on Lesedi FM, Zibonele Community Radio, Forte Community Radio, Umhlobo Weneni and VUT FM. 'The community radio project seeks to use the radio as an educational tool', said Thami Nkosi, the Project Coordinator.
As Sonke grows, its media profile will too. Next year, Sonke will be formalising arrangements with new media partners in South Africa and (as part of the global MenEngage Alliance) expanding its media work in other parts of Africa.